Get ready for the grand re-opening!Karaoke chain deploys AI Thermography System
~Enjoy a lovely time at karaoke BIG ECHO supported by SenseThunder~
Japan Computer Vision Corp. ("JCV"), a SoftBank Corp. subsidiary, has deployed the AI-powered integrated facial recognition and thermal imaging device "SenseThunder" at 20 karaoke BIG ECHO stores. Operated by DAIICHIKOSHO CO., LTD. ("DAIICHIKOSHO"), BIG ECHO aims to provide a safe and secure environment for customers to enjoy karaoke.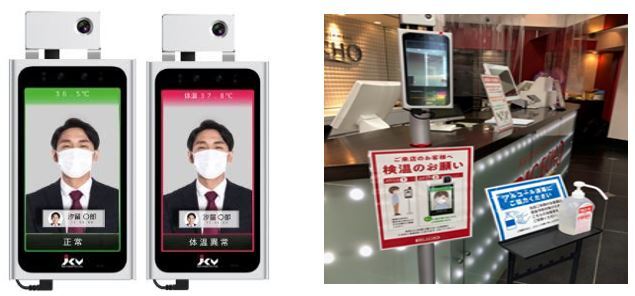 JCV's AI Thermography device "SenseThunder" integrates a thermal imaging camera with unique facial recognition technology to effectively screen above-normal temperature. The device can identify faces in 0.5 seconds from up to 1.2m while accurately estimating temperature measurements within ±0.4℃. "SenseThunder" aims to help maintain the social distance between staff and customers by enabling customers to self-check their physical condition, thus creating a care-free environment for them to enjoy karaoke and have a great time.
With this deployment, as part of the "New Lifestyle" movement, DAIICHIKOSHO aims to ensure both the staff and customer safety and to set an example as a leading karaoke company within the industry. With this deployment, JCV hopes to contribute in the recovery of Japanese society and will continue to assist in the promotion of safe and secure building access environments.
※No personal data or images of customers will be stored in this deployment.
※The device is not a medical instrument. Please seek a medical instrument for measuring body temperature for a medical purpose.
■AI Thermography Device「SenseThunder-Mini」Deployment
Starting Date:June 12th, 2020
Location:BIG ECHO 20 stores
■Tokyo Prefacture:
Shibuya Center Gai Honten, Yaesu Honten, Akabane Ekimae Honten, Shinagawa Konanguchi Ekimae, Gotanda Higashiguchi Ekimae, Shinjuku Higashiguchi Ekimae, Shimbashi Karasumoriguchi, Shimbashi Ginzaguchi Ekimae, Yurakucho, Shinyurakucho, Akihabara Showadoriguchi Ekimae, Ginza Sukiyabashi
■Kanagawa Prefacture:
Yokohama Nishiguchi Ekimaehon, Yokohama Sotetsuguchi Ekimae 2nd, Kawasaki Higashiguchi Ekimae
■Chiba Prefacture:Kashiwa Ekimae
■Saitama Prefacture:Omiya Nangindori
■Aichi Prefacture:Meieki 4Chome
■Osaka Prefacture:Umeda Chayamachi Honten, Tennouji Abeno Ekimae
【Contact Information】
Japan Computer Vision Corp. Marketing Department
Please contact us through below form.