Enriching people's lives with our AI Technology
Business Overview

Development and operation of solutions
Thoroughly managing data in Japan

Synergies
with SoftBank
Cooperation with Group Companies
Japan Computer Vision is a visionary company that utilizes AI technology to provide cutting-edge solutions in the "smart building" and "smart retail" sectors. The company creates new work styles and lifestyles by improving and streamlining the office environment, optimizing the space design of stores and commercial facilities, improving hospitality, and streamlining payments.
Message from CEO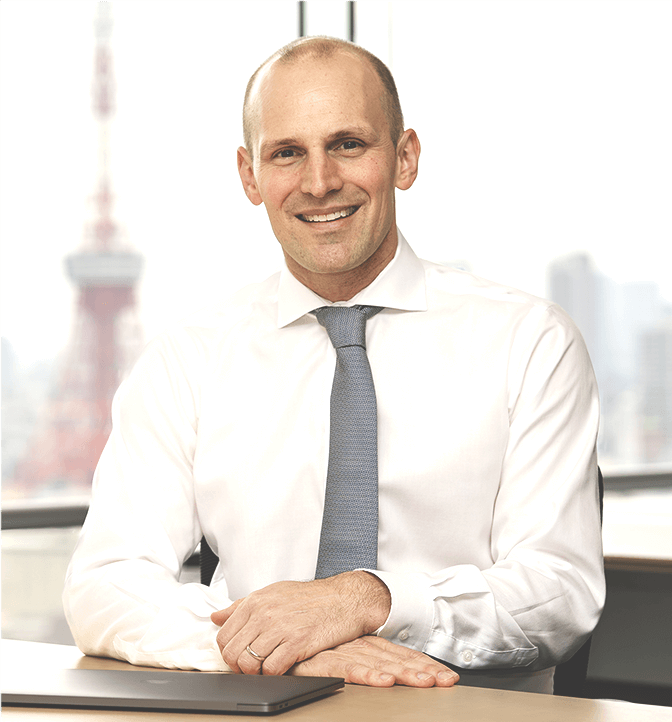 As a newcomer to Japan I have always been inspired by the Japanese spirit of Omotenashi and how even simple customer experiences in Japanese society made are extraordinary. The Japanese standards of quality in products and services are always extremely high compared to many countries in the world because of the rituals, process and systems the Japanese culture has created.
In recent years, Computer Vision Technology combined with AI and Deep Learning has opened up the opportunity to improve our offline, or real world, experiences by making them more efficient and convenient.
Our goal at Japan Computer Vision Corp. is to use technology to amplify the spirit of Omotenashi in office buildings, retail shops and public spaces using computer vision and AI, thus enhancing people's lives.
Our opportunity in Japan is to advance the building access and retail markets using this technology with an ethical approach that is beneficial to our human rights, security, personal privacy and freedom. Through our consciousness of these values we can create products that will define a new world in which we would enjoy living in. Our commitment is that we will constantly check our products and solutions to ensure that we respect these fundamental values and extend the spirit of Omotenashi to everyone.
CEO Profile
Andrew Schwabecher
In college, he majored in Computer Science. After working as a software engineer and IT consultant, he joined SoftBank Telecom America, where he served as Senior Vice President of the cloud domain. After serving as Senior Vice President of Cloud domain, he became CTO of SB Cloud, a joint venture between Alibaba and SoftBank. After that, he served as Vice President of Business Development at SoftBank's headquarters, and then joined JCV when it was established and was appointed CEO.
JCV Ethical Use Policy
Japan Computer Vision Corp. recognizes that there are no available standards yet for the commercial use of AI technology in offline environments including: city public spaces, businesses and neighborhoods.
Until international standards are developed regulating the use of AI, Japan Computer Vision Corp. has adopted standards of its own to govern the use of technology, as we acknowledge our responsibility as a leading AI technology company, to realize our mission only by practicing and promoting ethical use of computer vision and AI technology.
Japan Computer Vision Corp. warrants that all products and technology sold is free from features or capabilities which enable the identification of human beings based on:
Religious Affiliation
Ethnicity
Political Views
Above features or capabilities shall not be developed, commercialized or sold by Japan Computer Vision Corp. and this ethical use policy of JCV shall be attached to our product license agreement.
Corporate Profile
Company Name
Japan Computer Vision Corp.
(Japanese : 日本コンピュータビジョン株式会社)
Representative
CEO Andrew Schwabecher
Headquarters
1-7-1 Kaigan, Minato-ku, Tokyo 105-7590
View Google Map
Established
May 2019
Official Homepage
https://www.japancv.co.jp/en/
Description of Business
Computer vision based solution development and provider
View Solutions
Shareholder
SoftBank Corp.
Access
Address
1-7-1 Kaigan, Minato-ku, Tokyo 105-7590
Transportation
Hamamatsucho Station, JR Yamanote Line, Keihin Tohoku Line and Tokyo Monorail
(4 min on foot)
Takeshiba Station, Yurikamome Line
(2 min on foot)
Daimon Station,Toei Subway Asakusa line and Oedo line
(5 min on foot)