Chip One Stop, Inc.
Japan Computer Vision Corp.
Joint Press Release
Japan Computer Vision Corp ("JCV") is pleased to announce that Chip One Stop, Inc. (headquartered in Yokohama, Kanagawa Prefecture) began selling the M20 AI Vision Module (a compact twin-lens camera) on the Chip One Stop website from June 30, 2021.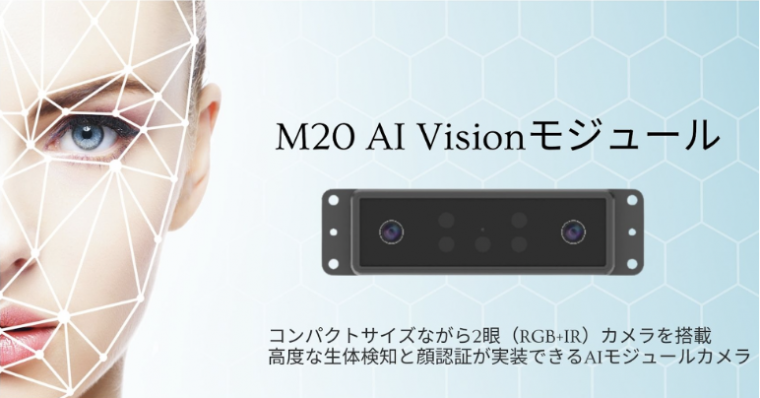 Click "M20 AI Vision Module" on Chip One Stop's online shopping site
JCV's newest product, the "M20 AI Vision Module", was launched in June 2021. It is a compact twin-lens camera equipped with the world's most advanced (*1) face recognition technology. It can be installed in various systems as an embedded biometric detection and face recognition module. It deploys standard features, such as an anti-spoofing function, the ability to recognize mask-wearing individuals, and the ability to recognize up to 20,000 faces with the module alone (a function that becomes virtually unlimited when connected to a JCV face recognition server (*2)). Its primary strength is that it does not require large-scale system development.
Here are some of the use case examples:
Identity authentication for office floor and security areas (Smart Office)
Identity authentication for time and attendance management machines
Identity authentication for factory and warehouse systems and equipment operations
Face recognition payment is enabled by installation in retail stores and restaurant kiosks
The client biometric authentication function can be combined with other companies' face recognition systems
Chip One Stop is one of the largest membership-based mail-order sites in Japan. Customers can order immediate delivery from an inventory of approximately 3.5 million electronic components, semiconductors, and various parts within a database of approximately 24 million model numbers. The commencement of "M20 AI Vision Module" sales will make it possible to provide highly accurate biometric and face recognition solutions in combination with existing and new systems for a wide range of Chip One Stop customers. JCV expects this will lead to sales opportunities to new customer groups and markets.
For product inquiries, please contact us:
【Chip One Stop, Inc.】
Representative: Masayuki Takanori, President, and Representative Director
Headquarters: LIVMO Rising Building 10F, 3-19-1 Shin-Yokohama, Kohoku-ku, Yokohama 222-8525
Tokyo Office: Atago Green Hills MORI Tower 35F, 5-1, Atago 2-chome, Minato-ku, Tokyo 105-6235, Japan
Tel: +81-45-470-8750 (switchboard)
Established: February 9, 2001
Company Overview: "www.chip1stop.com" is an online shopping site for electronic components and semiconductors. Information on production discontinuation, specification changes, interchangeable products, and hazardous substances in electronic components and semiconductors can be found on the company's website.
*1 Sensetime's world-leading face recognition algorithm as used in the latest face recognition benchmark test (FRVT2020) conducted by the U.S. National Institute of Standards and Technology (NIST).
*2 The 20,000 persons face recognition capacity can be expanded to up to 1,000,000 persons when connected to the JCV face recognition server.