Providing High-Quality Services on a Platform Supporting Face Recognition for 20 Million IDs
Japan Computer Vision Corp will announce that it has launched Mercury Cloud, a platform that provides highly accurate face recognition APIs for customer facing systems and services.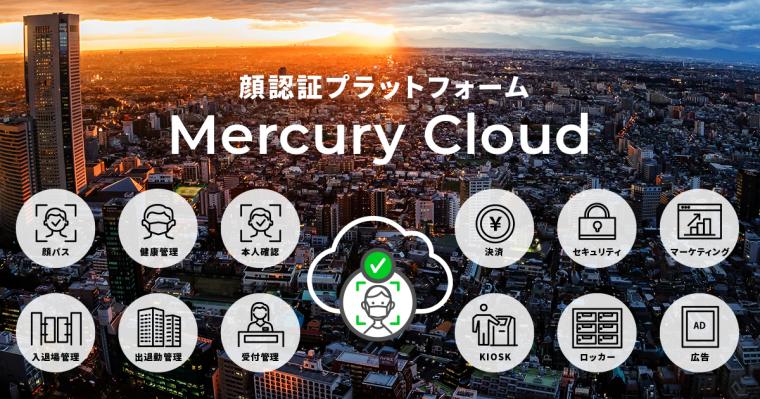 Face recognition has been attracting attention due to the aging society, and shortage of human resources, and with the rapid increase in the need for use with contactless technology, customers are increasingly seeking to use face recognition in combination with their own services or to introduce it as soon as possible. The demand for face recognition technology that can be deployed quickly is increasing.
 Many companies are now adopting face recognition as a service to improve the efficiency of personal identification and business operations. Mercury cloud has been tested on commercial face payment systems with hundreds of merchants in the world's largest economies. Feedback from trial customers has been extremely positive and customers are now rapidly adopting the general availability service. One of the key drivers of adoption has been the ability to identify yourself with high accuracy face recognition even when wearing a mask and the low cost and simple consumption model,  which is less than ¥30 yen monthly per user!
  MercuryCloud, the face recognition cloud service to be launched this time, is a platform that provides AI-based image recognition technology, offering high-quality CV PaaS services (face detection, face comparison, face search, attribute detection, etc.).It has flexible service deployment, high cost performance, service availability, and a high level of security.
The cloud architecture also provides a service framework that enables the integration of various applications and services to achieve stable and continuous business growth.
By providing a highly accurate face recognition engine for face recognition when wearing a mask on a cloud basis, we will not only provide customers with the convenience of face recognition, but also develop solutions and services to solve customer issues and achieve business growth in cooperation with partner companies.
◾️Features of Mercury Cloud, a Face Recognition Cloud Service
world's best face recognition technology in a cloud-based service
simple fee structure with annual subscriptions
highly accurate face recognition using algorithms optimized for face recognition when
 wearing masks
20 million faces can be registered, and face detection, face comparison (1:1), face search  (1:N), and attribute detection can be performed at high speed.
Can be used with a wide variety of camera-equipped devices (other than those provided by JCV).
Can be implemented with simple development using the easy-to-use Open API, and does  not require complex development.
◾️Expected use cases
Face-authenticated settlement using KIOSK terminals (with cameras) in retail, restaurants,  etc.
Identity verification through mobile terminals when using online services (eKYC)
Face recognition (identity verification) using IP cameras for ticketless entry at large-scale events, etc.
Single sign-on to multiple internal systems using face recognition ID,    etc.