Virtual beautification powered by advanced facial recognition – JCV launches new AR SDK
SoftBank Corp. subsidiary, Japan Computer Vision Corp. ("JCV") announces today the release of their "JCV AR SDK," a new facial recognition based software development kit equipped with special effect filters applicable for all common smart devices.
Utilizing the advanced facial recognition algorithm developed by JCV's technology partner, SenseTime Group Limited, the new "JCV AR SDK" helps to realize a first-class virtual experience by enabling super fine realistic adjustments of different parts of the face. The technology quickly detects up to 240 key face points in milliseconds and is able to track the face and apply special effect filters accurately, even in complex scenarios with wide angles or extreme lighting.
As the first series of this SDK, "JCV AR SDK Beauty Package" will be released with three types of feature available: the Beautify, Makeup, and Micro-shaping function. From skin-smoothing, shading, to applying eyeliners, color contact lenses, blushes and other makeup effects, the SDK further supports fine adjustments of different facial features including forehead, nose length and many more. This software development kit aims to enrich various entertainment scenes such as live streaming, commercials, and e-commerce by enabling the addition of diverse and vivid AR effects.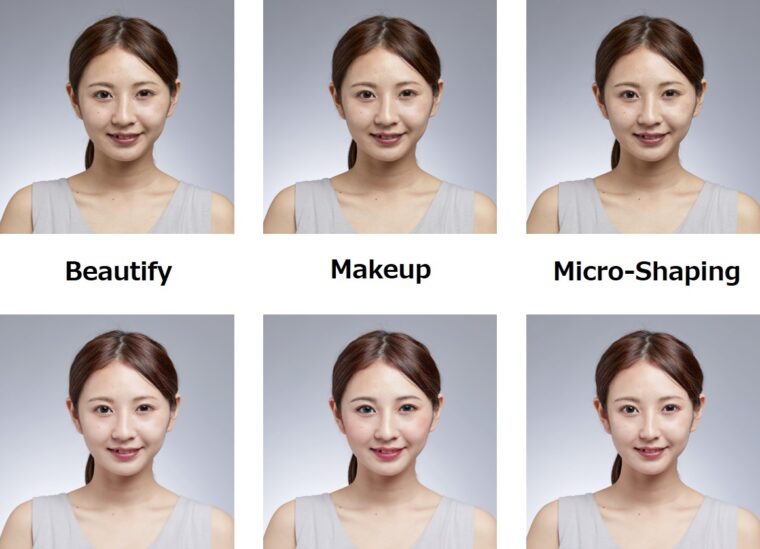 JCV will continuously strive to create added value for existing systems and applications by collaborating with our customers to provide next-generation facial recognition solutions.
■ Overview of "JCV AR SDK Beauty Package"
1) Key features
 ・Accurate and instantieous detection and tracking of key facial points 
 ・Special effect filters add on to faces from imagery or video stream
 ・Skin smoothing, makeup, and micro-shaping functions
 ・Realize real-time previews on regular smartphones (supports Android and iOS)
2) Available packages and functions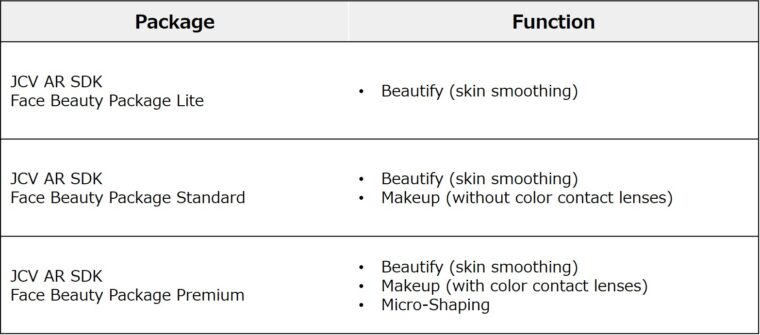 【Contact Information】
Japan Computer Vision Corp. Marketing Department
Please contact us through below form.