JCV launches new Face Recognition and Insight SDKs
~Simply integrate face recognition and attribute analysis to any application with
"Face recognition SDK" and "Insight SDK"~
Japan Computer Vision Corp. (HQ: Tokyo, hereafter referred to as "JCV"), is a SoftBank Corp. subsidiary company providing computer vision based AI software and hardware to Japanese customers.
Today, JCV is launching a new series of SDKs which allow developers to combine face recognition and human attribute analysis into their existing applications. The new SDKs will be available starting January 31st 2020.
"JCV Face Recognition SDK", is powered by SenseTime's world-class Face Recognition algorithms which provide well known performance and accuracy characteristics. This robust SDK can be used for identification and authentication in mission critical environments such as hotels, banks, face based door locks in houses or lockers, or face recognition based smart building access.
"JCV Insight SDK" extracts and analyzes not only face but also body attributes of visitors using standard HD video. The SDK gathers insightful data covering from gender, age, attire, facial expression, watching time, dwelling time, and number of previous visits. This data can create a deeper understanding of customer behavior which can be used to improve customer experience and create a first-class concierge level of service. This type of enhanced customer data from video can also enable optimized merchandise layout and more effective events operations.
JCV will be exhibiting this SDK series at Retail Tech Japan 2020 held at Makuhari Messe during 3rd ~ 6th March, 2020, with interactive demonstrations.
■Overview of "JCV Face Recognition Software Development Kit"
1.「JCV Face Recognition SDK」
(1) Overview
 ・SDK for integrating face recognition into customer's device
 ・Basic face recognition functions including Liveness detection, 1:1 face verification, 1:N face search
 ・Supports Linux、Windows OS ※For details see below chart.
(2) Main functions
 ・Face Detection, Face Tracking, Feature Extraction
 ・Image Quality Check
 ・Liveness Detection (anti-spoof attack)
 ・1:1 Face Verification, 1:N Face Search
(3) Features
 ・Supports 1:N face verification with large number of face data in the library
 ・high accuracy : over 99%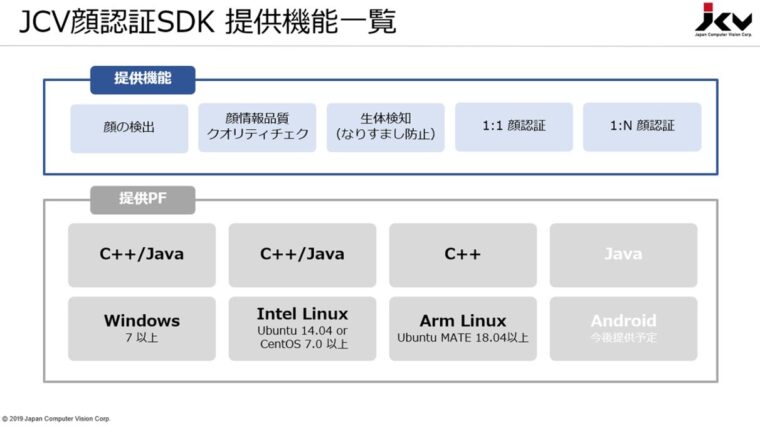 2. 「JCV Insight SDK」
(1) Overview
 ・SDK for integrating face recognition into customer's device
 ・ Includes Face and Body attributes analysis and 1:1 Face verification
 ・ Supports Android、Windows OS ※For details see below chart.
(2) Features
 ・Identify Facial Attributes:Gender, age, facial expression, Smile level, accessories etc
 ・Identify Body Attributes:Age, clothing etc
 ・Identify Individual Statistics:Number of visits, watching time, dwelling time, VIP verification
 ・Overall statistics:Age, gender distribution, number of visits, number of visitors, distribution by the time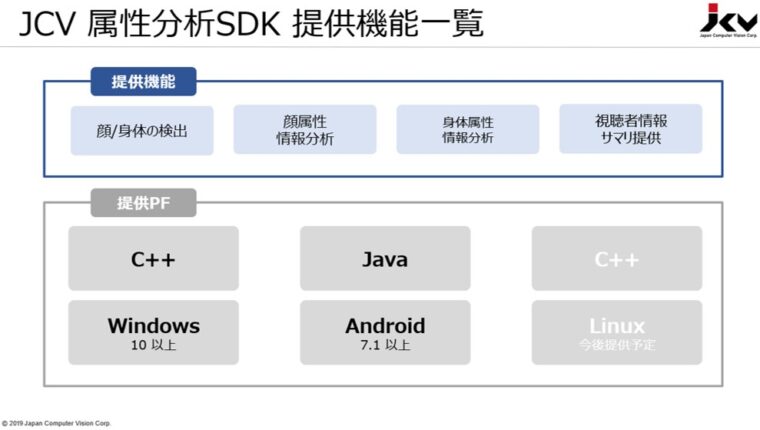 ■ Details on 「JCV Software Development Kit」
URL: https://www.japancv.co.jp/en/solutions/fr_sdk/
【Contact Information】
Japan Computer Vision Corp. Marketing Department
Please contact us through below form.